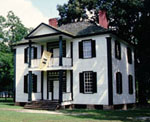 ndex of historic places discussed within the pages of The Way We Lived, with links to maps and individual sites.

Explore the many places where history comes alive in North Carolina . . .

Note: Historical maps are provided in GIF and PDF formats. The PDF maps are large files suitable for printing.


Alamance Battleground
Map of Alamance County | Related Historical Maps: The American Revolution
PDF




Aycock Birthplace
Map of Wayne County | Related Historical Maps: The Election of 1900 PDF




Historic Bath
Map of Beaufort County | Related Historical Maps: The Albemarle Region PDF; Tuscarora War PDF




Bennett Place
Map of Durham County | Related Historical Maps: The Civil War PDF




Bentonville Battlefield
Map of Johnston County | Related Historical Maps: The Civil War PDF; Battle of Bentonville PDF




Brunswick Town / Fort Anderson
Map of Brunswick County | Related Historical Maps: The Cape Fear Region PDF; Plantations of the Lower Cape Fear PDF; The Civil War PDF




Charlotte Hawkins Brown Museum
Map of Guilford County | Related Historical Maps: African American Educational Progress PDF





Duke Homestead
Map of Durham County | Related Historical Maps: Research Triangle Park PDF




Fort Dobbs
Map of Iredell County | Related Historical Maps: The Great Wagon Road PDF




Historic Edenton
Map of Chowan County | Related Historical Maps: The Albemarle Region PDF




Fort Fisher
Map of New Hanover County | Related Historical Maps: The Cape Fear Region PDF; The Civil War PDF




Historic Halifax
Map of Halifax County | Related Historical Maps: The American Revolution PDF; Principal Towns by 1820 PDF




Horne Creek Living Historical Farm
Map of Surry County | Related Historical Maps:




House in the Horseshoe
Map of Moore County | Related Historical Maps: The American Revolution PDF




CSS Neuse
Map of Lenoir County | Related Historical Maps: The Civil War PDF




North Carolina Transportation Museum
Map of Rowan County | Related Historical Maps: North Carolina Railroads by 1890 PDF; North Carolina Highways by 1924 PDF; Spencer Shops (NCTM) PDF




James K. Polk Memorial
Map of Mecklenburg County | Related Historical Maps: Charlotte — City Growth by Annexation PDF




Reed Gold Mine
Map of Cabarrus County | Related Historical Maps: Gold Mining PDF




Roanoke Island Festival Park
Map of Dare County | Related Historical Maps: The Roanoke Voyages PDF; The Albemarle Region PDF; Dismal Swamp Canal PDF; Lighthouses and Lifesaving Stations PDF




Somerset Place
Map of Washington County | Related Historical Maps: The Middle Passage PDF; The Albemarle Region PDF; Slave Population by 1860 PDF; The Civil War PDF




Historic Stagville
Map of Durham County | Related Historical Maps: The Middle Passage PDF; Slave Population by 1860 PDF; The Civil War PDF




State Capitol / Visitor Services
Map of Wake County | Related Historical Maps:




Town Creek Indian Mound
Map of Montgomery County | Related Historical Maps: Migration Routes of the First Americans PDF




Tryon Palace
Map of Craven County | Related Historical Maps: The American Revolution PDF; Principal Towns by 1820 PDF




USS North Carolina Battleship Memorial
Map of New Hanover County | Related Historical Maps: World War II in North Carolina PDF




Zebulon B. Vance Birthplace
Map of Buncombe County | Related Historical Maps: The Civil War PDF




Thomas Wolfe Memorial
Map of Bumcombe County | Related Historical Maps: Principal Towns by 1820 PDF; The Blue Ridge Parkway PDF