B U N C O M B E C O U N T Y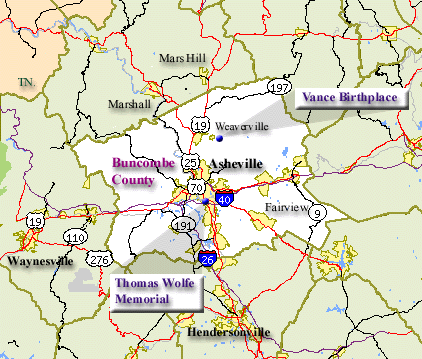 Map Legend

Cultural Resources in Buncombe County . . .
Thomas Wolfe Memorial
Thomas Wolfe left an indelible mark on American letters. His mother's boardinghouse in Asheville, North Carolina—now the Thomas Wolfe Memorial—has become one of literature's most famous landmarks.
Zebulon B. Vance Birthplace
This pioneer farmstead, tucked in the Reems Creek Valley, features the birthplace of Zebulon Baird Vance. Vance was North Carolina's governor during the Civil War.
North Carolina ECHO Resources in Buncombe County
Exploring Cultural Heritage Online. Provided by the North Carolina State Library.
Neighboring Counties: