M O O R E C O U N T Y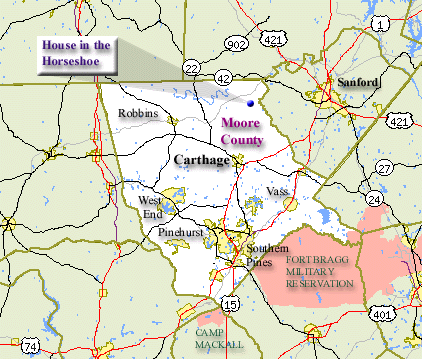 Map Legend

Resources in Moore County . . .
House in the Horseshoe
In the summer and spring, bright flowers surround this white plantation house whose name comes from its location on a horseshoe bend in the Deep River. The house (ca. 1770) was owned by Philip Alston, whose band of whigs was attacked in 1781 by tories led by David Fanning. Later, four-term governor Benjamin Williams lived in the house, which now contains antiques of the colonial and Revolutionary War eras.
North Carolina ECHO Resources in Moore County
Exploring Cultural Heritage Online. Provided by the North Carolina State Library.
Neighboring Counties: