D U R H A M C O U N T Y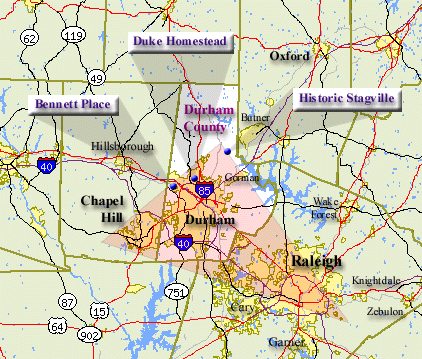 Map Legend

Resources in Durham County . . .
Bennett Place
This simple farmhouse was situated between Confederate Gen. Joseph E. Johnston's headquarters in Greensboro, and Union Gen. William T. Sherman's headquarters in Raleigh. In April 1865, the two commanders met at the Bennett Place, where they signed surrender papers for Southern armies in the Carolinas, Georgia, and Florida. It was the largest troop surrender of the American Civil War.
Duke Homestead
See the early home, factories, and farm where Washington Duke first grew and processed tobacco. Duke's sons later founded The American Tobacco Company, the largest tobacco company in the world.
Historic Stagville
Comprises the remnants of one of the largest plantations of the pre-Civil War South. The plantation belonged to the Bennehan-Cameron family, whose combined holdings totalled approximately 900 slaves and almost 30,000 acres by 1860.
North Carolina ECHO Resources in Durham County
Exploring Cultural Heritage Online. Provided by the North Carolina State Library.
Neighboring Counties: