G U I L F O R D C O U N T Y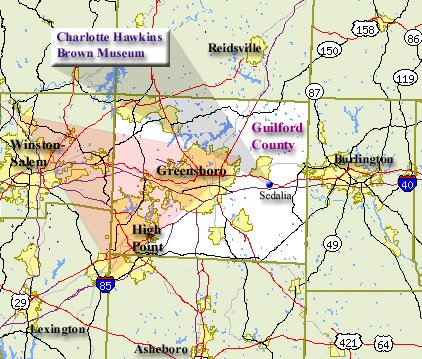 Map Legend

Resources in Guilford County . . .
Charlotte Hawkins Brown Memorial
Founded in 1902 by Dr. Charlotte Hawkins Brown, Palmer Memorial Institute transformed the lives of more than 1,000 African American students. Today, restored campus buildings provide the setting for a unique educational experience. The memorial links Dr. Brown and Palmer Institute to the larger themes of African American women, education, and social history, emphasizing the contributions made by African American citizens to education in North Carolina.
North Carolina ECHO Resources in Guilford County
Exploring Cultural Heritage Online. Provided by the North Carolina State Library.
Neighboring Counties: